How fast fashion cuts corners: pattern-making
Ever wondered how your favorite pieces from the red carpet can be replicated and available for purchase in fast fashion stores only weeks after an event?
The answer is simple - technology.
Many of us see it as a god-send, and most of the time, in the consumer world, our demands are met before we even have the chance to make them, but at what cost?
This time we are not talking about the ethical and environmental problems (but trust us, there are many) with fast-fashion, but rather the impact that this process is having on the overall quality of your clothing.
Quantity over quality
When creating garments quickly and at low cost, there are clear ways that big businesses compromise on quality for the sake of larger profit margins. For example, by using poor quality fabric, cheap thread and imposing impossible targets on garment workers which force corners to be cut. However, in many fast-fashion cases, the quality of your garment has already begun to suffer before the production process has even started.
How, you may ask?
To create a high-quality garment that fits well, you have to pay attention to its foundations - namely, the pattern.
Patterns can be made using a variety of different methods, for example, draping or flat pattern technique. However, more and more fast-fashion retailers are opting for the digitised option and using entirely computer generated patterns to create their garments.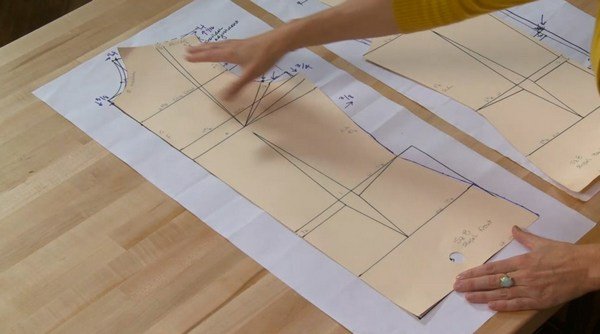 Don't get us wrong - digital pattern making programs definitely have their uses. They are great for accurately performing size grading and making simple and repetitive patterns. They can also be useful for transmitting garment information to offshore manufacturers and are by far the cheapest and quickest way to generate patterns.
These computer programs can also create a pattern that is the most economical in terms of fabric waste and production times, but this often results in boxy designs that do not fit or flatter the human body.
Indeed, one of the biggest problems with digital pattern making programs is that they do not currently have the capability to accurately create a pattern from start to finish that will accurately fit the human body. Therefore, even when using software to assist in pattern making, it must be done in conjunction with manual processes to create a quality, well-fitted garment.
The manual pattern making process is the most time consuming and costly part of production - meaning it does not fit into the timeline of the fast fashion business model. For example, the 'fit process' generally involves making a sample of a garment from an initial pattern that has been manually created from a design. The designers will use this sample to locate any issues and perform the necessary alterations. This information will then be transferred back into the pattern and the process will be repeated until the garment is perfect. This stage in itself can go back and forth for weeks to months.
In contrast, fast fashion chains such as Zara and H&M can complete the entire process of garment creation, from design conception to selling on the shop floor, in as little as three weeks.
In the ever moving world of fast fashion, there is no time to spend on perfecting a pattern, or even testing it to see if it will look good on the average person.
But why does the fit of my garment matter so much?
Aside from the obvious - that it won't be comfortable or flatter your body - having a garment that is ill fitting often means you will get less wear out of it.
This is because, when you wear a garment that doesn't fit you properly (or wasn't made to fit the human form at all), there is often extra pressure put on certain points or seams in the garment, causing it to wear, tear and lose shape quickly.